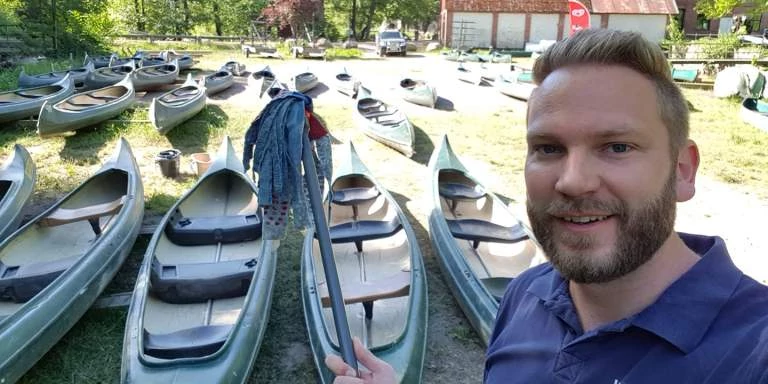 Glad you want to know more about us 🙂
My name is Viktor and I run Kanotcentralen in Stockamöllan.
We can arrange for you to go on an enjoyable canoeing adventure with friends, family or colleagues in the beautiful Skåne countryside.
We have been doing this since 1988 and we know the Rönne River inside out.
I started working here in the summer when I was 13 years old and since 2006 I have been running the Canoe Center under my own steam.
I am delighted to welcome all the happy canoeists who are excited about the adventure the day has in store for them with their family and friends.
You are also very welcome! 🙂
Get in touch with some friends and invite them to join you on a beautiful and wonderful adventure in nature!
Find a day in our calendar and easily reserve the number of canoes you need.
What do our customers think?

Christoffer Hurtig Åkerberg
Oct 28, 2022
Bra utbud av kanoter/kajaker samt en väldigt trevlig ägare

Soska Mevan
Aug 31, 2022
Helt fantastisk, så trevlig personal också ! Smidigt och enkelt , rekommenderar verkligen !

Daniel Nordin
Aug 22, 2022
Bästa och proffsigaste kanotuthyraren i Skåne och på Rönne å. ❤️

Malin Arvidsson
Sep 30, 2022

Martin Andersson
Sep 6, 2022
Två härliga dagar med familjen. Övernattning i tält. Fyra glada hundar fick också följa med.

Vilmer Jarl Skute
Aug 29, 2022
Jätteroligt och prisvärt! 300 kr (per person) för att hyra kanot i 24 timmar. Mysig åktur som tar många timmar att åka med fin natur och tillfällen med mycket adrenalin. Enda minusen var att kartan vi fick var lite otydlig med tipsen om vilket håll man skulle använda och så, men med lite uppmärksamhet gick det super!